Several ASRM members attended the model railway show at Church Stretton School on 2nd April 2016 as exhibitors. Doug Rhodes was there with his German layout; Hansestadt Brunshaffen, ably assisted by Michael Ling. Michael Glover was there with his Brewery Tramway and I attended with Spout Lane limestone quarry railway. This was the layout's first time out of the garage where it was built and my first exhibition since c.1980 so there was a lot to learn! I was helped by Sue and ASRM member Andrew Vaughan.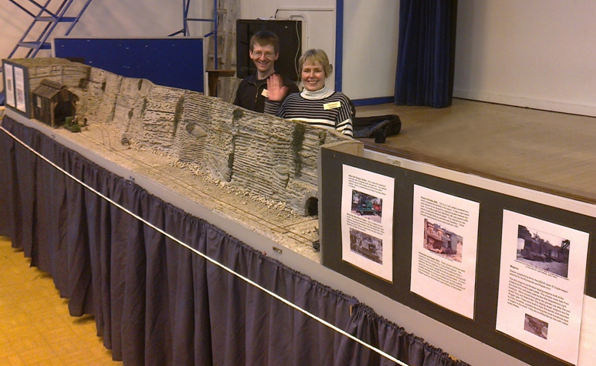 Church Stretton MR show
It was a really enjoyable experience, once I scrapped the carefully worked out sequence and we just had fun playing trains! We met nice people and had some good chats. There were some very good other layouts including one based on the trench narrow gauge railways of the First World War with added sound effects.
The layout scenery took a bit of a battering and I am not sure I would want to do more than one or two exhibitions a year. It was fun though.
Nick Coppin