Members were invited to bring along a current modelling project to talk about.

Barrie Kelsall brought two 7mm scale models. The Great Western 'Shrewsbury Castle' 4-6-0 and a LSWR T9 4-4-0. The Castle was pretty much finished and looked excellent! Barrie just wanted to tone down the paint on the smoke box. The T9 was a Laurie Griffin kit and had been causing some headaches with nicely made parts not really fitting together. Barrie mentioned that his fantastic 7mm scale Barmouth bridge will be in Barmouth soon for a 150 years exhibition.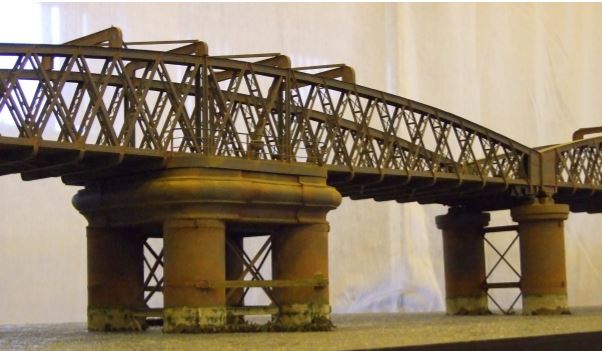 Barmouth Bridge
Andrew Vaughan had a variety of his etched kits to show us. There were some lovely 7mm scale interiors for a drawing office and a signal box, a 16mm scale chassis for a narrow gauge diesel loco and a remarkable 2mm scale mine pit head gear. The latter created much interest.

Dave Gotliffe showed us a fine Swiss office building from his Z gauge layout. It is lit with white and yellow l.e.d.s and looked very convincing. He used a booklet from All Components for advice on what resistor values to use with the l.e.d.s. He used some 2mm etched kits from Severn Models in his building.

Ian Payne went up a few scales with 16mm garden railway buildings carved from Thermalite blocks. He used a wood saw, chisel, bradawl and file to cut and shape them. They were then painted and varnished and had an imitation slate for the roof.

Peter Starkey brought along his LMS diesel hydraulic model again for us to see the progress. Now it has a roof radiator built up from Plastruct and brass. He has some detailing and lettering left to do.

After a coffee break, Michael Ling distributed Timetable cards. These are part of the timetabling for his N gauge model of Bewdley on the Severn Valley and Tenbury lines. He started with 1939 working timetables and added a few trains for more operating interest. To ensure the extra trains could run, he produced graphic train diagrams and ultimately the Timetable cards. They have Time, Signal Box, Platform, Arrival or Departure, Special, a Train code and the actual train movement.
Stephen Duffell brought a nearly finished P4 model of a M&SWJR 2-6-0 which was mostly scratchbuilt with a chassis from Roxey Mouldings and a tender made by Simon Bolton, who came to talk to us a little while ago. He has made good use of tiny magnets for holding things like smokebox door and boiler backhead on.

Gordon Woods had lots of Airfix/Dapol tank wagons, weighted with lead and with Alan Gibson wheels. He also had some 21T hopper wagons from Dapol, GMR, Hornby and Parkside. To pull them, a Q6 with 3D modelled NE loco lamps by Modelu. Now he has to build 25 fish wagons!
Staying in the North East.
Tim Lewis is working on springing P4 wagons using Masokits units. These are good but really only fit the Parkside kits without lots of work. Other makes cause much difficulty. He also brought a J25 loco; his Millennium project (this is 2017); still to be finished!

Frank Lax had an N gauge GWR Siphon; a Low Siphon only 6'3" high. Siphons were used for milk churns or fish. It was a Mill Lane kit made from laser cut plastic with added brake levers.

Peter Cox finished off with another laser kit. This was an HO American Caboose; three kits in fact which Peter bought on EBay for a bargain price! He was very pleased as there are lots of extras in the kits which are very finely made from laser cut wood.

A good evening's meeting.