Two reports on Neil Ramsay, Modelling Irish Narrow/Broad Gauge Railways.
This was a very well-attended meeting. Neil is a well-known modeller of Irish narrow gauge on 45mm gauge track and more recently he has branched out into Irish 'broad gauge' on 79mm track. He has a particular interest in diesel railcars. He brought along a varied selection of models which created much interest.
He began by briefly outlining early Irish railway history and how they arrived at the two gauges of 5'3" and 3'. He explained how the financing of railways in Ireland differed from the rest of the UK and talked about the impact the 'Troubles' and subsequent creation of the Irish Free State, had on the railways. He explained how the thinly populated Irish countryside helped encourage the development of the diesel railcar in Ireland, on both the broad and narrow gauge, before the GWR and other companies began developing them over here.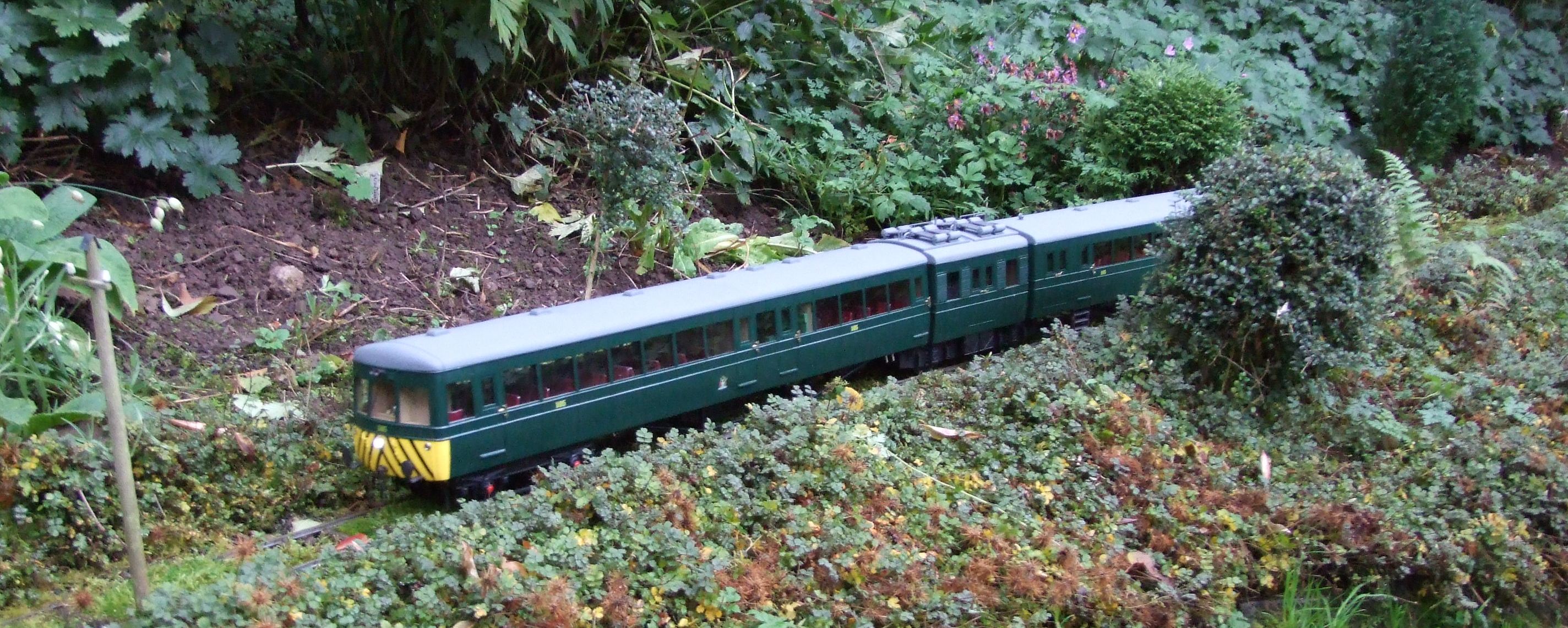 Neill Ramsay's railcar touring his garden.
Photo of Neil's model of a 1937 Walker Brothers GNRI Railcar
There were dozens of slides of both models and prototypes and Neil's enthusiasm for his subject swept the audience along even encroaching on coffee time! After a break when the models were closely inspected, Neil described some of his modelling techniques. These were well illustrated with photos of models under construction.
All in all, a very enjoyable evening with much food for thought.
---
Here is another report on the evening from Eric Challenor.
Around 20 members attended the meeting and we were treated to a talk by Neil Ramsey, who hails from deepest Herefordshire. Neil produces garden railway models in 15mm/foot gauge and brought along several items for us to see. He started by giving us a brief history on the railways of Ireland, both broad and narrow gauge, with some delightfully quaint pictures to accompany and illustrate his comments. Moving to the modelling aspect, the various types of wood available were discussed and compared, together with the relatively straight-forward treatments needed to obtain a quality finish to the model. His insights into the mysteries of large scale construction were also explained, including an unusual and effective method of using super-glue gel to join large sections of wood to plastic.
Treated was really an understatement; with Neil's obvious love of Irish railways, we were shown stock built to a very high standard, which included examples from CIE, The West Clare, The Clogher Valley and my own favourite, one of the later articulated railcars from The County Donegal Railways Joint Committee, resplendent in its Geranium red and cream livery. Some items even had working smoke units, with the blue haze of emanating exhaust fumes adding that special touch to the evening. Neil rounded the meeting off by showing us three short video clips of his garden railways in action. Altogether, it was a thoroughly enjoyable meeting and I for one, am very glad that I did not miss it.
EC.